Happy New Year to all of you! I hope you had a wonderful holiday season with lots of good food and family and friends. We had a quiet but nice time.
For the new year I wish for lots of time for creativity. And I hope you will have the same, too! So lets get started right away!
Here in Germany we begin the new year with lots and lots of fireworks, so I've selected two patterns that remind me of fireworks.
Today's patterns are:
---
First time for the challenge? You can find the rules here.
---
Warning! There isn't really a step out for the pattern Ahh, but on the page I've linked to you can see what it normally looks like and I know you'll easily be able to figure out how to draw it. 🙂
My own tile was a bit too monochromatic for me in black and white today, as I was thinking of fireworks when I drew it. I wanted to add lots of colors to the finished pattern, but I'm staying at a friend's house for a few days and forgot to take my colors along. After quite a bit of searching my friend did manage to find exactly five (5!!) colored pencils. Alas, they were all red. So red fireworks it is!! 😉
Have a good beginning of the year!
Here's my entry for today: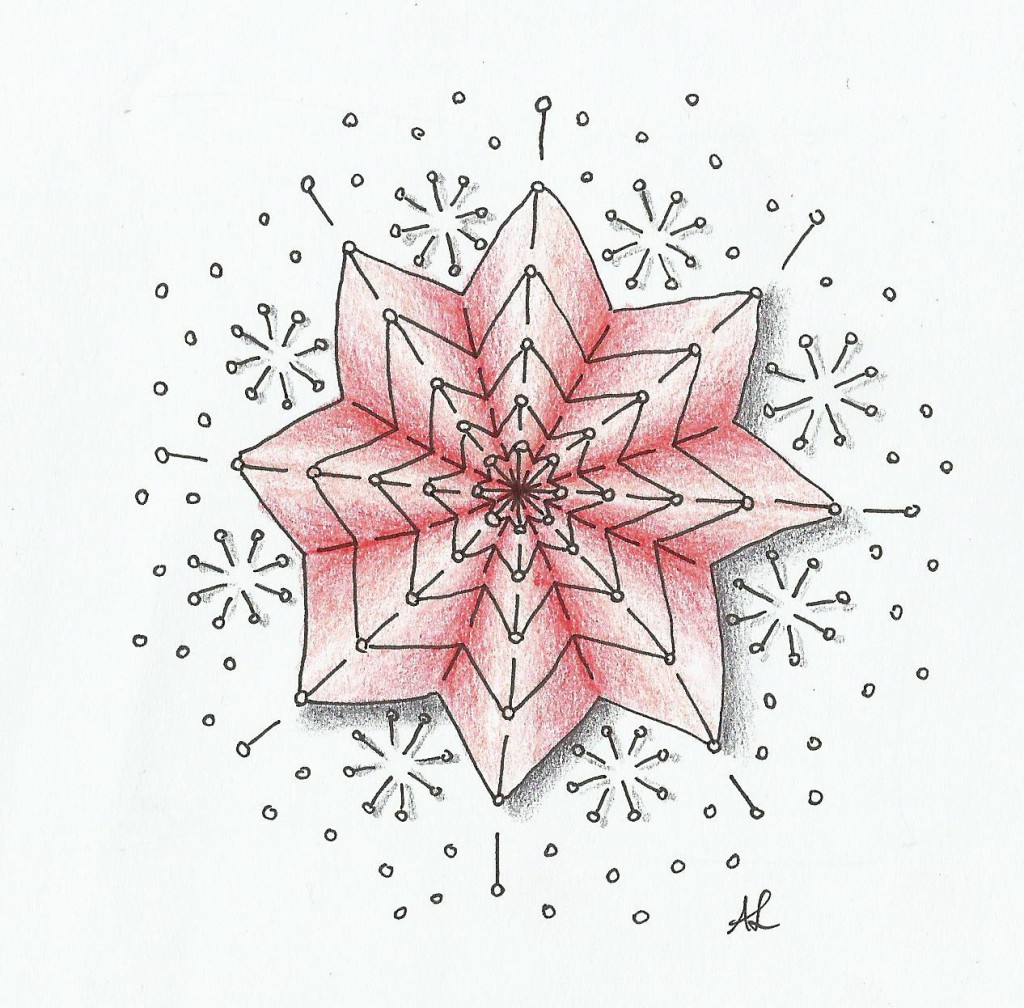 ATTENTION, please! While all tiles submitted in the last months were stunningly beautiful, there seems to have been some confusion about pattern mixing. Just drawing two patterns next to each other on a tile is called a Duo Tangle (and it can definitely be worth your while), but when we mix patterns, we go one step further. Pattern mixing means to merge two tangles, to intertwine them or even create a new tangle from the combination. I've drawn up a few examples for you here. Mixing patterns is not easy and you might even want to collect a few ideas or do a few sketches first. But it's a real booster to yor creativity and it's – well, a challenge!
KLICK HERE TO GET TO THE PAGE WITH THE LINKY TOOL! (Scroll to "Mister Linky's Magical Widgets".)
Have fun!
🙂
Anya