Anything is possible – one stroke at a timeTM
At first glance, a Zentangle creation can seem intricate and complicated. But, when you learn how it is done, you realize how simple it is . . . sort of like learning the secret behind a magic trick. Then, when you create a piece of Zentangle art, you realize how fun and engrossing the process itself is. 
Deliberate stroke
Zentangle is not the same thing as doodling while on the phone. Each new stroke should be placed deliberately and with your full attention.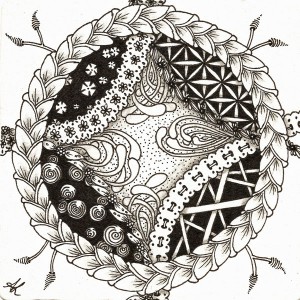 Deliberate Focus
As you make a deliberate pen stroke on your Zentangle tile without concerning yourself of what it will look like when you are done, that very act of putting your pen to paper focuses your attention in a special way. As your eye follows your pen strokes your attention shifts to a state that allows fresh thoughts, new perspectives, and creative insights to flow unhindered by anxiety or effort.
No Eraser
There is no eraser in life and there is no eraser in a Zentangle Kit. However, in creating Zentangle art (and in living life), you will discover that apparent mistakes can be foundations for new patterns and take you in unexpected and exciting new directions.
Unknown Outcomes
Unlike much art, or most activities, you start out intentionally not knowing what your Zentangle creation will look like. The Zentangle Method allows you to discover new possibilities that you might not have anticipated when you began. 
No Predetermined Solution
With no predetermined correct answer, the Zentangle method offers both a freedom and a challenge. Unlike crossword, jigsaw, or Sudoku puzzles, there is no one predetermined solution. You cannot fail to create Zentangle art.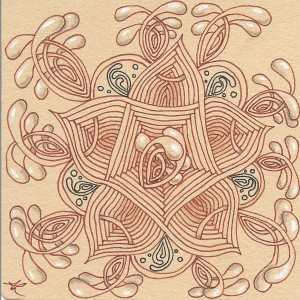 Abstract
You always succeed when you create Zentangle art because you always create a pattern. A Zentangle creation is meant to be nonrepresentative with no up or down. Since it is not a picture of something, you have no worries about whether you can draw a hand, or a duck. You always succeed in creating a pattern in a Zentangle way.
Portable
A Zentangle tile is 3 1/2 inches (89 mm) square. A Zentangle tile is designed to be completed in one sitting. Keep some Zentangle tiles in your pocket or purse. You can finish one in as little as 15 minutes. You get an immediate sense of accomplishment by completing your work of art. Of course, you can spend as much time as you like on a tile. Time melts as you focus on and enjoy your penstrokes.
High Quality
We always encourage people to use the best tools and materials possible. Your work will gain greatly and it is a sign of respect for yourself and your craft.
Ceremony
Like a Japanese Tea Ceremony, when you create Zentangle art you also create a personal environment. You can use our Zentangle approach as a tool to deliberately focus your thoughts.
---

Keep reading:
Or go back to: