Dear Tanglers,
a little while ago I told you about all the great things my aunt brought with her from the States for me. Among other things, there was a box of 64 Gelly Roll gel pens. I love those things, I really do! Not only can you write or tangle with them, but you can also create beautiful color transitions that look great in your tangles!
Today I would like to show, how to create these transitions. Here you can see a tile that I did during my last advanced class (we were trying to combine patterns).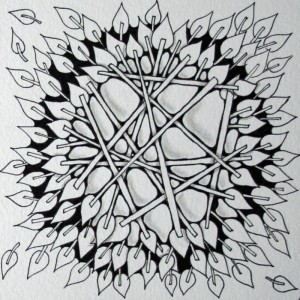 I kind of like this tile, but I just felt there was something missing in the center. After a lot of thinking, I decided what was missing was color! If you've been following my blog you know that I don't really approve of color in Zentanlge – at least I hardly ever like it. But this time I just felt that color it must be. And you know what? I love it!!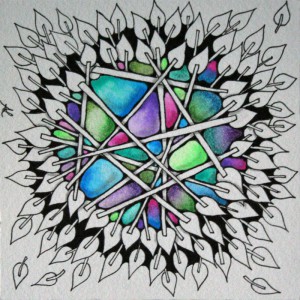 Wow, right??
Okay, so now how do you do those color transitions?
First, grab a Gelly Roll pen. Note that only the Moonlight (with a little moon on it), Metallic and Stardust (both glittery) pens are really suited for this type of smudging.
Next you will need a paint brush and water or a waterbrush. I use the Pentel Aquash – a fantastic tool: The water sits in the reservoir in the back or the brush. Just give it a little squeeze to let the water flow. If you squeeze a bit more you can clean the water off your brush.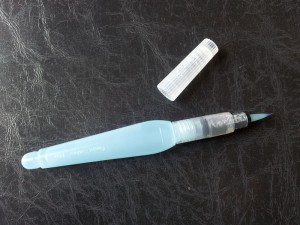 Now pick a space you want to fill and put a little bit of color (from your Gelly Roll) on one edge of it.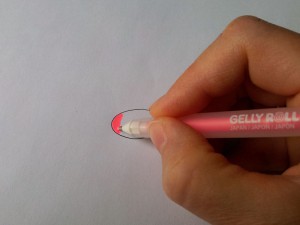 It is important to work quickly now, before the paint dries. Pick up your slightly wet paint brush and carefully start wiping away from the colored area. The color will get lighter, the farther away you get from the paint. Fill your whole are with light color/water or add another color to make a smooth transition between two colors as described below.
If you add another (preferably similar) color to the other end of your space you can easily make the to shades blend into each other. Just make sure you leavwe plenty of white space when adding color with the Gelly Roll.
Before smudging the second color you might have to wipe your paint brush on a piece of paper to clean it. Otherwise your second color will sit right on top of the first one and ruin the effect.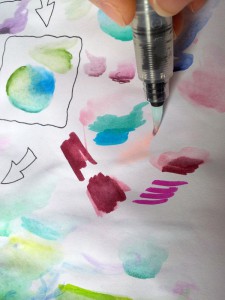 I suggest trying this on a seperate sheet of paper before you do it on a tile. You'll quickly become an expert at blending and come to love this technique as much as I do.
Have fun!