Hi everyone!
Well, fall is finally here! 😉 The kids and I have been collecting beautiful red autumn leaves for the last 2 weeks -they're all over our house! Also, I've been experimenting with watercolors for the first time in my life (not counting the terrible quality ones we used at school) and found a tutorial on the internet about painting leaves with watercolors.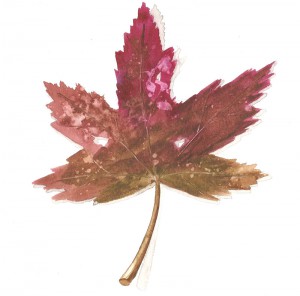 Watercolor autumn leaf.
So last week's Diva Challenge fits right in with what's been going on around here. This time, we were supposed to use the shapes of leaves as our string. I actually traced around one of the leaves we collected, used the veins as a string, and then tangled everything on the 5 hour train ride to my weekend class in St. Augustin (and the guy with the motorcycle magazine was watching the whole time).
Patterns I used:
Nekton, Printemps, Balloya, W2, Trazee, Quipple, Paradox, Knights Bridge, Hollibaugh, Flukes, 'Nzeppel, Buttercup, Shattuck.