Dear Tanglers!
Today I'd like to introduce a new pattern: "Ish". I created it for my new book, which will be published in German on April 16th (first in magazine form – the book will follow later).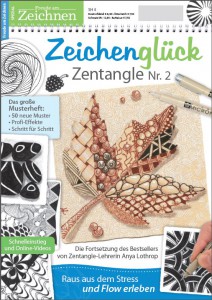 Part two is mainly a collection of patterns, but there are also some cool tips and tricks. There will eventually be an English version – I will let you know.
I'll be showing you another pattern from the book on April 10th (before that we've got the Pattern Mixer again). There will also be a fantastic Paradox mini-workshop on the release date! Fun!! 🙂
But now, I wish you lots of fun with ISH! It's a border pattern that can go around tiles or pictures. But it can also run across the tile – you'll find an example in the book!