Dear Tanglers,
I've been sick all week. Not so nice. But then again, being in bed finally gave me the time to tangle a bit – and to participate in the Weekly Diva Challenge – just in time before the new challenge comes out tomorrow! 😉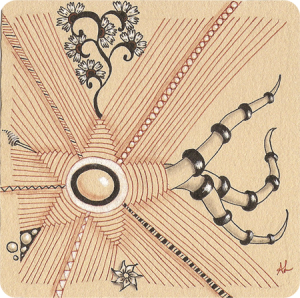 I've been wanting to try Arukas for weeks now, but since I've been working on the English translation of my book, I've been spending more time on the computer than tangling.
Arukas is the latest "officilal" Zentangle pattern and it's wonderfully versatile. Guaranteed hours of playing! 😀 Here's how to draw it.