Dear Tanglers,
I've finally done it! It took me a few weeks (or was it months?), but I've finally managed to try out Zentangle's new Bijou tiles. Bijou tiles are even smaller than the original Zentangle tiles. At only 5 x 5 cm there's only one thing I can say about them: cute!
And Bijou himself is no less so. Rick and Maria, the founders of Zentangle, tell the story of how they found the little snail crawling up Maria's suitcase in their hotel on a trip to Paris. He's since inspired them with his slime-trail-tangles on their front porch. Bijou even has his own website.
I don't know why, but since they came out, I never really wanted to tangle on such small tiles. But I finally did last weekend – and the results were… well… cute again. 🙂 See for yourselves: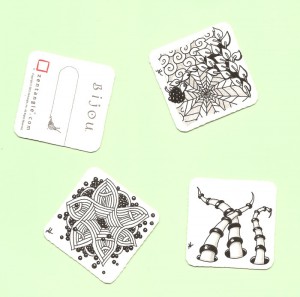 Because or their size, Bijou tiles are perfect for mono- or duotangles (that is just one or two patterns on a tile). I could also imagine using them as a tangle pattern reference (I don't know about you – but I can never think of more than 5 patterns without a reference). They come in a beautiful little box with a window lid. And the best part about them: I can really finish one in less than half an hour! Finally!
I'll leave you with a little introductory video that Rick and Maria have uploaded to youtube.